Book an airport transfer, lounge priority pass or store your luggage at the airport
Travel with Chris is delighted to announce that we have formed a partnership with Priority Pass
Buy an Airport Lounge Pass with Priority Pass
Travel is not just about booking flights, travel insurance and your accommodation. Do you have a long layover in the airport during your flight or are you a luxury, business or frequent flyer? If so, Priority Pass is a membership that gives you access to over 1300 comfortable airport lounges around the world. This way on your next flight, you can relax while waiting for your flight.
Click on the below Priority Pass banner to buy your pass today. It is that simple!!
Do you have a long layover and want to go into the city for a few hours without your luggage?
Store your Luggage at the Airport with Radical Storage
Travel with Chris has teamed up with Radical Storage. They provide travellers with luggage storage solutions so they can enjoy their holiday to the fullest, giving them the opportunity to eliminate problems with early arrivals or late departures from the home/hotel. Radical Storage operates in over 70 countries and 350 cities with more than 3500 storage points.
Click on the Radical Storage banner below to get the best prices and book your luggage storage today!!
Are you arriving at the airport and need a transfer to your destination?
Book an Airport Transfer or Taxi with KiwiTaxi, HolidayTaxis or GetTransfer.com
Travel with Chris has teamed up with KiwiTaxi, HolidayTaxis and GetTransfer.com for the best service for transfers and taxis with a personal driver at the best prices.
Located in over 500 airports and 150 countries – including at airports for all the top resorts with new destinations added every month. With 12 car classes from Micro class for three passengers to Minibus and Premium class transfers for groups, these two companies have all your transfer needs and wants.
For more information and how to book a transfer with either KiwiTaxi, HolidayTaxis and GetTransfer.com click on the banners below for all the best prices.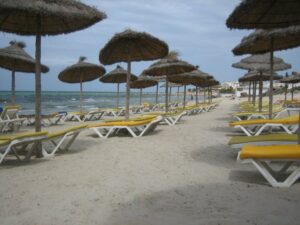 Travelling to Tunisia provides an enthralling experience of a North African nation that skillfully combines a rich cultural tapestry, varied landscapes, and ancient history. Tunis,
Read More »