Travel with Chris is your one-stop-shop for booking all your bus tickets and passes. We are happy to team up with FlixBus, Busbud and Omio for all your bus ticket needs. 
Book the Cheapest Bus Ticket in Europe with Flixbus
FlixBus offers safe and comfortable long-distance travel in Europe. It has created the largest transport network in Europe, covering 26 countries and counting. In addition, FlixBus is now starting to operate in North America and are building up network. If you are on a budget and looking for an affordable way to travel around Europe, Flixbus is your best option.
With comfortable buses equipped with amenities such as free Wi-Fi and power outlets, FlixBus ensures a comfortable journey for passengers. The company provides a user-friendly app and website for easy booking, real-time tracking, and ticket management. Click on the FlixBus banner below to book the best and cheapest bus ticket in Europe today.
Book the Cheapest Bus Ticket and Passes with Busbud
Busbud is an online bus-booking platform that has compiled the world's largest selection of bus tickets. Wherever you are traveling, you can easily compare bus tickets from different companies and book the best option for your next trip. Busbud's platform simplifies the booking process. You can quickly find the cheapest price, shortest trip duration, or the best amenities for your bus trip. With all these options in one place, travelers can prioritize what matters to them. 
Busbud offers a wide range of routes and destinations, allowing travelers to find the most suitable options for their journeys. The platform provides a user-friendly interface, making it easy to search for available routes, compare prices, and secure bookings.
Click on the Busbud banner below to book the best and cheapest ticket today.
Book the Cheapest Bus Ticket and Passes with Omio
Omio is a well-known online travel agency that enables customers to plan and compare trips using a variety of means of transportation around Europe and the rest of the world, including ferries, trains, flights or cheap buses.
Omio offers travelers a practical approach to discover the best routes, costs, and schedules for their journeys thanks to a user-friendly design and cutting-edge search engine. A seamless travel experience is ensured by the platform's other capabilities, which include mobile ticketing, real-time updates, and customer support. Omio makes it easy for travelers to simply plan and book their transit alternatives, whether it's a quick vacation or a multi-city adventure, making travel planning quick and effective.
Click on the Omio banner below to find the cheapest bus ticket online.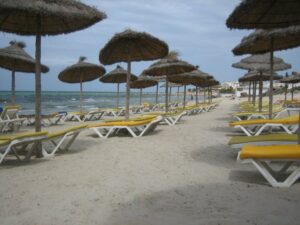 Travelling to Tunisia provides an enthralling experience of a North African nation that skillfully combines a rich cultural tapestry, varied landscapes, and ancient history. Tunis,
Read More »